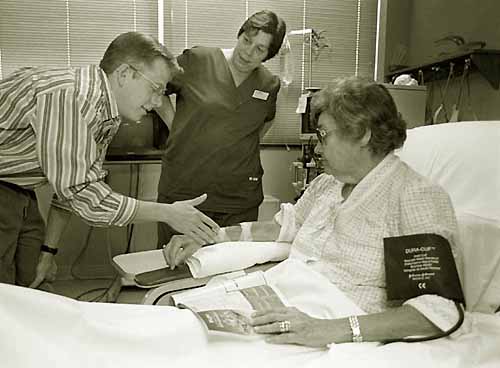 Photo by Miranda Meyer



In case my kidneys failed before the transplant, I took a tour of the dialysis center at Mercy Medical Center in Cedar Rapids to familiarize myself with the process and environment.

I remember walking out of the unit saying, "No way, not me." At first glance, it was just plain depressing. The room was very large with 15 dialysis machines, and hooked up to each one was an individual easily 30 years my senior. It did not look like the environment in which I wanted to spend 12 or more hours per week.

In hindsight, I can say I was not keeping an open mind. I talk about my dialysis experience later in this journal. Here, dialysis nurse Peggy Loffers explains the dialysis process as I examine JoAnn Schupanitz's access.







Homepage | About this Site | Site Map | Thanks | Contact Information
Copyright © 2000 johnfmartin.net